November 20, 2018
Arshdeep Kaur
'Method in Chaos'
This phrase probably the first thing that comes to my mind, when someone asks me about my hometown, Delhi. While I'm more of a 'Home is where the arse is' kinda girl, the six years I spent living in Delhi were the most formative of my life, and I consider myself somewhat of an authority on this city.
As the vibrant, bustling capital of the melting pot that is India, it is hardly surprising that this city has something to offer everyone. Years of being conquered and rebuilt by various dynasties, along with the influx of migrants from across the country, and more recently, expats, have left their indelible mark on Delhi, and it only takes one visit to see how.
A study in contrasts, Delhi is often described as containing within it 7 cities, each from a distinct era in time. While I could go on all day about each of these, for the quintessential 'Indian' experience, I strongly recommend getting lost in numerous crowded alleyways that make up Chandni Chowk, the main shopping area in Old Delhi. Something I do every time I find myself back in Delhi, for me this place embodies the spirit of the city. Just a hop, skip and jump away from the iconic Red Fort, it is easily accessible via the Delhi Metro. It can be intimidating at first: The crowds, sounds and smells together result in a sensory overload, but the best (and only) way to enjoy this experience is to go with the flow, and take it all in. It is understood, of course, that anyone visiting should alter their perception of personal space: In a city of about 50 million people, you are bound to be pushed around. By choosing to take the metro, you're signing up for constantly smelling sweaty armpits. While the Delhi metro is undoubtedly one of the best public transport systems in the world, riding it during peak hours certainly isn't short of an adventure in itself.
Once you've ticked this off your list, there is no dearth of touristy spots for you to explore in Delhi. The numerous sandstone monuments, all have a story to tell, and provide some quality content for your Instagram feed at the same time! Lodhi Gardens and the Hauz Khas Fort (pictured below) are my personal favourites. And sure, you can engage any of the tourist guides around if history lessons are what you seek. Make sure you squeeze in some shopping while you are at it.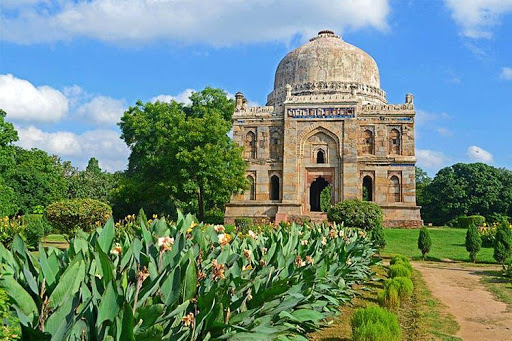 Delhi's real gem, however, is its food. From high-end restaurants to cheap carts on the street, there's something for every stomach and pocket. A quintessential Delhi experience is Chaat. While there is no literal translation for the word in English, it is a combination of a lot of spicy, crispy, and tangy things thrown together on a plate. Standing on a crowded street at dusk, while chowing down on this messy yet delicious amalgamation of ingredients is a must do when you're here (packing antacids is recommended). And then of course, there are the curries and breads known and bastardised all over the world but done right only here. Karim's in Jama Masjid, or the Pandara Road late night spots are your best bet.
I cannot end without addressing the elephant in the room, so to speak. As a city that is widely considered as extremely unsafe, Delhi does not enjoy a great rep with many. However, in my opinion, this is more exaggeration than reality. It goes without saying that there are a few precautions any visitor to a new city should take, but take any such statements with a grain of salt and do not let them deter you from exploring one of my favourite cities in the world.